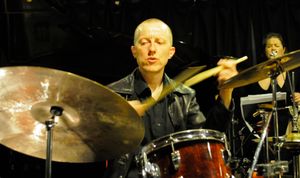 "

A sight and sound for sore eyes and ears..A technician who grooves..powerhouse drumming" - Rhythm mag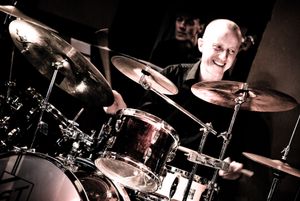 Steve Taylor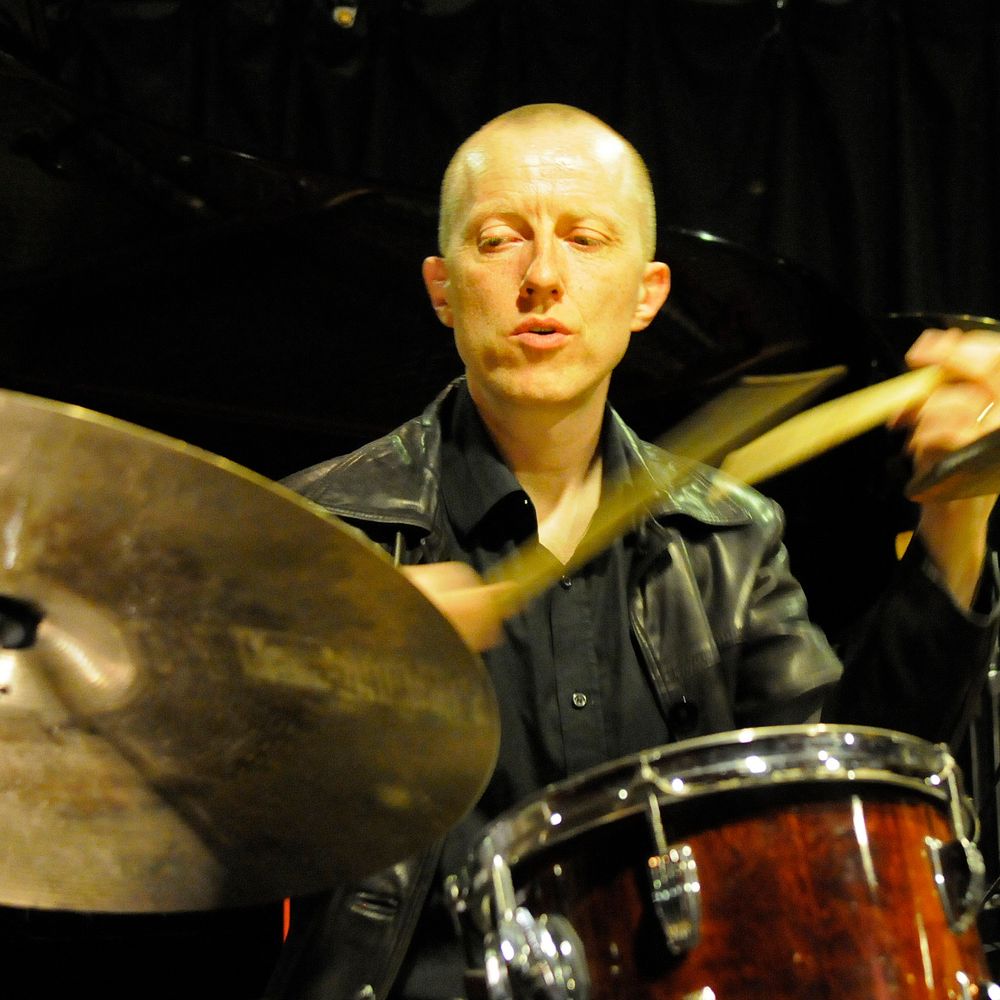 Top UK London based
Drummer/ percussionist
Steve Taylor is a drummer/percussionist/ songwriter/producer & educator to boot, working in the music business since leaving school at 16 years old.
Steve studied drumming from age 6, also studying classical piano & tap dancing! during childhood (these experiences & skills have been a major influence on Steve to this day).
Coming from a musical & stage dancing obsessed family, Steve's childhood muse were the now famous drum heavy songs from the 70s & 80s including 'Dance With the Devil' (Cozy Powell) 'Radar Love' (Golden Earing) 'Black Betty' (The Ram Jam Band) 'Art for art sake' (10CC) 'Ballroom Blitz' (the Sweet) & Roy Woods band Wizzard.
During teenage, Steve was influenced by the 'quality' pop music of the day - The Police to George Benson, Al Jarreau, Classic Funk, veering in later years to the sophisticated sounds of Herbie Hancock, Steely Dan, the Brecker Brothers, and the heady era of Disco! .. learning all about 'The Groove'
Via his drum teacher of 6 years Jimmy Benson (who was the first UK drummer to play Leonard Bernstein's challenging score for the musically iconic 'West Side Story' show in the UK) Steve discovered the influential Jazz drumming & music of the likes of legendary Buddy Rich, Louie Bellson & Steve Gadd (the most recorded drummer of all time -all of whom Steve witnessed & met as a boy when they appeared at London's Ronnie Scott's Jazz Club) immersing himself in every Jazz, fusion & big band record he could find.
As a childhood tap dancer & piano player, from teenage onwards, Steve focused his talents totally on drums and drumming, playing a healthy mix of Pop gigs, Jazz gigs & shows, cutting his drumming teeth in a wide variety of musical and music biz settings, eventually collaborating in many live & studio projects with great musicians from the London jazz scene , plus doing session work, advertising jingles, pop, club and cabaret dates backing the likes of Jonathan Ross to Bob Monkhouse to Adelaide Hall to Count Basie's trombonist Al Grey.
Throughout the first half of the 90s Steve led groups and played sideman to:
Jazz artists including: guitarist Jim Mullen, pianist Geoff Castle, trumpeter Gerard Presencer, sax player Theo Travis, trumpeter Steve Waterman, sax player Mornington Lockett, Tim Garland (Chic Corea) & Nitin Sawhney.
Ian Shaw (jazz fm), Claire Martin obe, - Shopping Trolley (Hannibal records artists), Harvey and the Wallbangers, broadcaster Emma Freud, Jonathan Ross and, more recently with Artist/producer Nitin Sawhney, vocalist Maggie Reilly (Mike Oldfield), Brendan Power (Riverdance), Mica Paris, Omar Lye-fook and the Philharmonia Orchestra.
In the early 90s Steve met & married Scottish singer-songwriter Josie Frater, quickly discovering a shared love of great music & musicians and began simultaneously writing & producing music together as 90's Acid jazz flavoured group 'The Runners' while simultaneously curating Ziggy's Jazz Club. Working for and with the finest musicians in town. The Runners appeared on BBC Radio 2/ Jazz FM (Jools Holland) & toured the UK
Steve & Josie first co-ran & curated Ziggy's Jazz club at the Green Man in London's West End, booking top names, playing host to Drum "Battles" with Steve on stage opposite drummers Neal Wilkinson & Martin Drew (Oscar Peterson/Ronnie Scott).
Steve has been teaching drummers of all ages on a one to one basis & in clinics and workshops since his early 20's. In the 90s Steve was a leading faculty member of MI London ( Musicians Institute) and has since worked for & with many London music hubs & organisations, collaborating more recently with the likes of National Youth Jazz Orchestra NYJO.
Steve was featured in UK drummers mag 'Rhythm' for his work with his band 'The Runners' and his educational work at MI.
In 2005 Steve formed Steve Taylor Big Band Explosion. This has been a regular part of Steve's life to date, fullfilling a life-long ambition to form and lead a contemporary jazz big band (16 piece). This now features the luscious sounds of Josie Frater on vocals and Steve & Josie's talented daughter Rosie Frater-Taylor on guitar and vocals, amongst the hottest horns & rhythm section drawn from the likes of National Youth Jazz Orchestra & Royal Academy of Music alumni.
Steve has appeared at Ronnie Scott's Club, Pizza Express Jazz Club Soho, Edinburgh festival and all over Europe. Recording music for Channel 4, BBC radio 2, Jazz FM and more
Steve now writes and produces orignal songs for FRATER AND TAYLOR with Josie ,while holding down the drum chair in rising star and daughters band Rosie Frater-Taylor.
Steve Taylor & Josie Frater have been producing & curating the new Ziggy's World Jazz Club featuring national and international Jazz and world music artists now based at Chickenshed theatre in North London.
Press Photos